Comments Off on Search Marketing
---
Social networks are the "new toy" for all who are dedicated to making SEM-Search Engine Marketing. Shortly after starting, we can see the immediate effect they have on the dissemination of content. We can choose any format imaginable to spread our message: microblogging postings (maximum 140 characters), shared bookmarks, videos, pictures, articles, applications. The versatility and effectiveness of this new channel arouses excitement. However, learning to use them is a process that takes time, and, like everything in life, made many mistakes, until they have become a fundamental part of our online marketing activities. The special social media have the power to segment our message is so unusual so far.
Thus, we can convey a specific message for each community, in certain situations and with very concrete goals. But it is preferable to use in "homeopathic doses" rather than flooding it with our messages. We must remember two premises principles: People-growing of all ages, spend most time on social networks rather than on other sites "traditional" (eg, online news portals) Most of the time the people spend in social media (much) do for pleasure (that is, to socialize, meet others, see questions that are important to them with their group membership, and innovative content sharing) And all hate that when we see an interesting film, the transmission is interrupted by commercial messages, users also hate when some "infiltrated" the community insists on the advertising style "Check the offers of the month …. com.
Without doubt, this is the quickest way to failure of communication strategies.
So why be? Then to offer a service, yes, but not to impose it. To bring quality content, assisting, and establishing brand presence. This makes exception, people involved in the promotion in social media, should exercise extreme talent and production of material that is popular, and potentially users want to share between them. There are excellent examples of effective corporate communication in social media. One such case is the Pizza Hut on Facebook. In itself, the site has nothing extraordinary. But the creativity with which it is made in there who makes you want instantly a steaming, crispy pizza from Pizza Hut, obviously. Other companies offer applications through social media for users to interact.
Such is the case of Victoria's Secret. The Facebook page is unedited videos of parades for lovers of fashion, and very funny application to be able to build your own set. No doubt the girls happy to have a good time fantasizing about which of the proposals will be Victoria's Secret. These are just two of many examples of pages incredibly popular companies the social media. No direct marketing, there is no compulsion to buy, no "end of month deals," but people come in torrents, either to know what is the variety of Hawaiian pizza from Pizza Hut, or choose the clothes they love.
---
social networks
Comments Off on Connected But Separate
---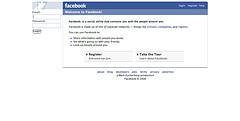 Connected but separate – What has not been said about Facebook? That is the most successful social network in the world, which has a theoretical value of about fifteen billion dollars, which consists of millions of browsers worldwide, the company Microsoft paid $ 240 million for a share of 1.6% of site and the list goes on … But behind the numbers, success and pompous words, highlights a small but not simple question: Why? Why prefer to manage our social relationships through text messages, emails and Internet games, rather than go out and meet in the real world? Facebook is no doubt, as "hot" that exists today on the Net All attached friends, play with new applications, ride and lower images are photographed, they know and what does that do? Many users admit to be completely addicted. Could it be that Facebook serves a real social need is just another easy way to escape from reality to a fantasy world, where one can have tens or even hundreds of friends, a more beautiful world of entertainment, where photographs are retouched and presented flawlessly, a world where there is no ( for now) social conflicts? "Unity" We are pressing human beings and we like to stroke our egos by showing the world how beautiful, capable and intelligent we are and what we have lot of friends. See and be seen. The social network provides an excellent setting to do just this. See everyone at the same time we see the best way possible to be more grandiose than life, with beautiful pictures, be praised, to be courted, strong interest that may hide a real need: to be united However, to understand the essence of the connection between us, we must know its root. Imagine that at a time, we were all together in one system, a kind of body composed of countless cells that maintained in an ongoing relationship and mutual.
At one point in the process of creating reality as we know it today, this body is fragmented into many parts. With the break we lost that sense of mutual respect between us creating within us, among other things, a sense of emptiness that he has done that since then we are looking for substitutes to that sense of wholeness that once experienced. In fact, social systems we have created, at its root, unconsciously seeking to restore that lost relationship. That old memory that brings us back to our roots The main protagonist, responsible for the separation between different parts of the system, the ego, which took the center stage in recent centuries has been increasing gradually its power. Nowadays, the ego is reaching a new record and it seems that beside the impressive development that leads us, is digging a deep chasm in our hearts, destroying thoroughly all kinds of warm human relationships that we had. The ego makes us feel that we depend on others to meet our needs, drives us to abuse them and use them, but when others fail to benefit, the move away from our life without looking back. In other words, we can not stand the fact that we need from others, forcing us to stand united against our will. This union is pushing us and we even anguish. Therefore, we seek ways to resist and refuse this connection that envelops us all together and they will anyway have to come back eventually.
---
social networks